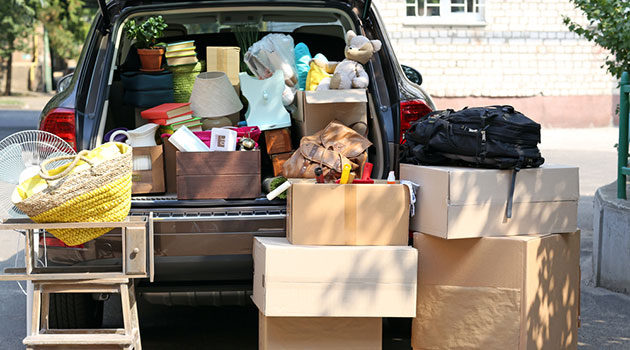 If you are moving house to a smaller property, take a long, hard look at your possessions as you will most likely have to get rid of a sizable portion of it. A good way to do this is to divide your belongings into groups. One group should consist of things that you need to take with you at all costs, then another group is stuff you could probably do without. The easiest way to get rid of these things is to simply give them away or take them to the dump.
Cutting down on the volume of items to be moved will make a big difference to your home moving costs, as you may find your mover needs to use a smaller vehicle and/or less men to handle your move. Man and van services are perfect for these type of jobs.
Car boot sales are another good way of clearing out clutter with the added bonus of raising a bit of extra money too. For anything that is left over, charity shops are always thankful for donations, and for larger items like sofas or household appliances, there are lots of house clearance companies that will take away your unwanted items and re-sell them. Some will even share the profits with you.
Key points:
Plan ahead what you are going to do with your belongings before your moving day comes.
Divide your belongings into groups.
Do not try to keep everything you have. Sometimes, downsizing is the only option that makes sense.
You could get smart with how you store your items in your new home.