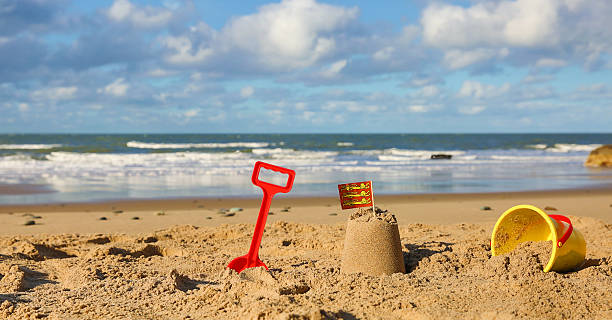 With almost 100 miles of coast it should be no surprise that Dorset has its fair share of great beaches. Yet what makes the Dorset coastline special is the diversity and range of coves and beaches. From sandbanks and spits to circular coves with weird and wonderful rock formations.
A large proportion of the coast in Dorset forms most of the Jurassic Coast, England's first UNESCO World Heritage Site. The Jurassic Coast stretches from Old Harry Rocks near Swanage to the border with Devon at Lyme Regis. The coast owes its status as a World Heritage Site to the unique insight into the Earth's geology it offers. It has been described as a geological 'walk through time' spanning the 185 million years of the Triassic, Jurassic and Cretaceous periods. The coast here is also a haven for paleontologist's with a high concentrations of fossils, although fossil hunters have pretty much emptied the area around Lyme Regis.
The beaches of Dorset are not only of interest to scientists though. There are some great family beaches and Blue Flag awards have been given to 9 beaches in East Dorset, mainly in the Bournemouth and Poole area. If you are moving to the Dorset area, we have listed 10 popular beaches to visit all located within the Dorset area.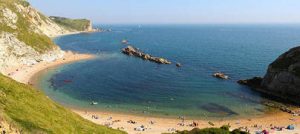 Lulworth Cove Dorset
The most beautiful pebble beach in the shape of a horse shoe. In the summer you can take a boat trip from here to the Durdle Door and Mupe Bay. There are places to eat, lots of parking and dogs are allowed on the beach. Pay a little visit to the museum next to the car park to discover information about the local area and the Jurassic Coast.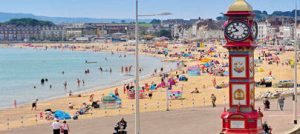 Weymouth Beach Dorset
A blue flag awarded golden sandy beach. The waters are safe and shallow so perfect for paddling and swimming. Pure bucket and spade pleasure to be had with beach Punch and Judy shows and donkey rides. There are also some fabulous summer firework displays. Three miles of sand just next to the lovely seaside town and old harbour. Dogs aren't allowed on the beach between the 1st May and 30th September but from October 1st, walk to your dog's delight!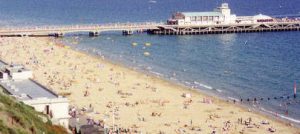 Bournemouth Beach Dorset
A beautiful seven mile stretch of beach complete with a lively pier and all the trappings required to give the kids a real English seaside holiday. The main stretch gets particularly busy in the summer but if you walk towards Westbourne or Southbourne, it does get quieter. Between the 1st May and 30th September dogs are allowed to the west of Durley Chine and east of Fisherman's Walk up to Hengistbury Head.
If you're looking to move to Bournemouth then check out our bournemouth man and van or removals services.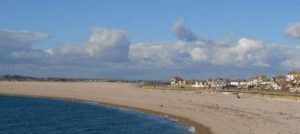 Chesil Cove Portland Dorset
Chesil Cove is part of Chesil Bank, a large naturally formed pebble bank, 15 miles long. The cove is a great spot for sea fishing and scuba diving. There are a few restrictions for dogs on Chesil Cove, but plenty of spots where dogs are welcome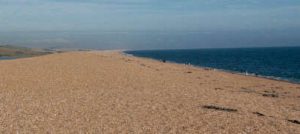 Abbotsbury Beach Dorset
Abbotsbury is one of the south coasts most popular beach fishing spots. Large cod, rays and more exotic fish have all been caught regularly on this beach.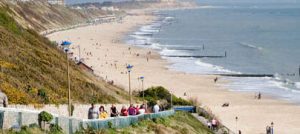 Fishermans Walk Beach Bournemouth Dorset
Fisherman's Walk is located between Southbourne and Boscombe and is a popular beach for the locals. Swimming is safe on the mostly sandy beach and you can hire deckchairs. There are also beach huts and a café.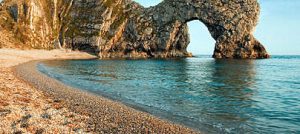 Durdle Door Beach Dorset
The Durdle Door Beach is the perfect spot for a picnic. Admire the natural rock formation of the durdle door and in the warmer months, snorkel through the arch. Dogs are welcome all year. There are no facilities so take your own flasks of tea and a picnic rug.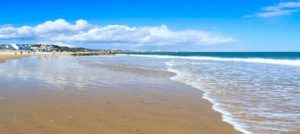 Sandbanks Beach Poole Dorset
This beach regularly wins a blue flag award. It is sheltered and extremely family friendly and just beautiful! Soft golden sands slope into the water. Take your buckets and spades and while away the day on this glorious beach.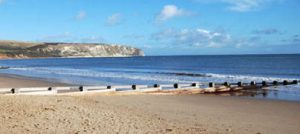 Swanage Beach Dorset
A calm and sheltered bay great for swimming and sat amongst the lovely little town of Swanage. The gently shelving golden sandy beach and clear unpolluted water have been the reasons why Swanage beach has been awarded the blue flag award. Dogs are welcome on Swanage beach between 1st October and 30th April each year.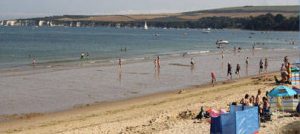 Studland Beach Dorset
A beautiful four mile stretch of golden sandy beach with gently shelving waters perfect for swimming in and views of Old Harry Rocks and the Isle of White. Studland was the inspiration for Enid Blyton's Noddy. Dogs are welcome on Studland beach between 1st October and 30th April each year.