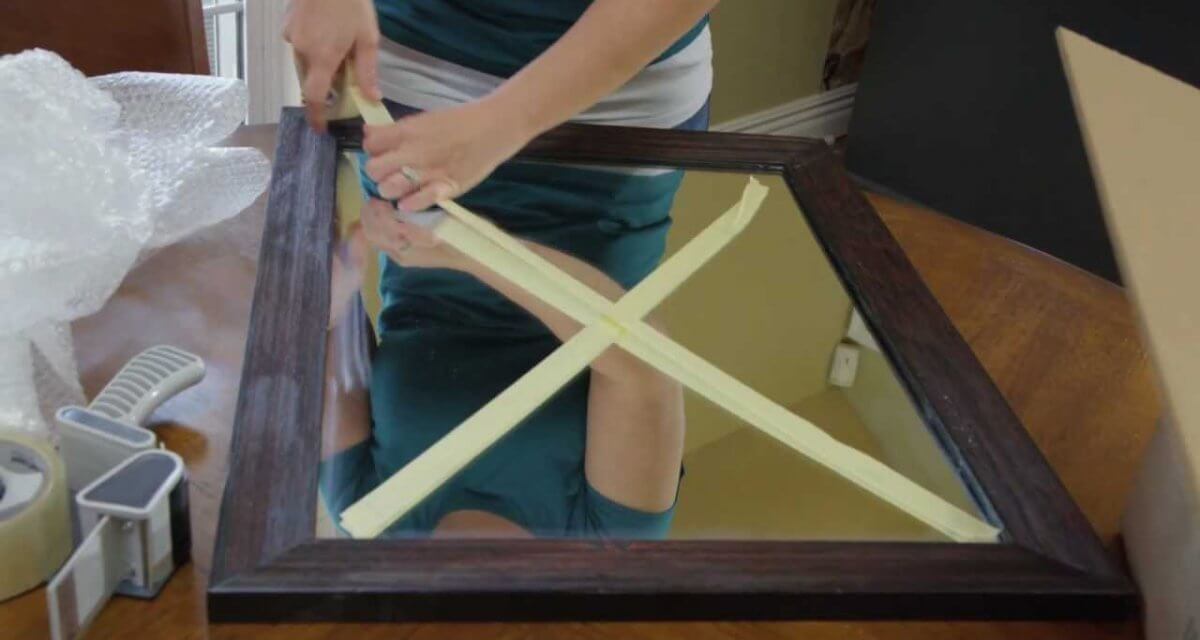 Transporting large mirrors is not something easy. It is a serious task that involves lots of risks. Imagine you have come across a beautiful and large antique mirror and all you want is having it installed on your hallway to make it look wonderful.
What is the safest means of transporting it from an antique outlet to your beloved home without breaking it along the way and then needing to pay someone to fix it?
Maybe you are moving from your current home to a new place. You'll first need to remove your wall mirrors safely. Most household items can be wrapped in bubble wraps and boxed to transport them safely. But how will you transport large and delicate wall and bathroom mirrors?
Just an unexpected movement may break your wonderful mirror into shards unless it is handled carefully.
Hence, you will need to take safety precautions when transporting a large mirror to avoid breaking it. Luckily, it is not very difficult to transport it safely. Here are some tips for moving mirrors safely.
Tips for Transporting Large Mirrors Safely
Mask the Mirror
Use a decorator masking tape to create a huge 'X' extending from one corner of the mirror to the other. Do this on both sides of the mirror, at the back and the front.
If the mirror is oval or round shaped, use your creativity to create 'X's that are equal to each other on both sides of the mirror.
Once done, make 4 small crosses using the masking tape. Each cross should be made within the quarters that were created using the big 'X'. Do this on both the back and the front sides of your mirror.
Although mirrors are made of glass, they are slightly flexible, unlike window panes they don't shatter when birds fly into them. Masking a mirror works by providing an extra form of stability and allows it to bend a bit whenever there are knocks and bumps while moving it.
Masking a mirror also assists in holding broken fragments of the mirror in place in case it gets broken while moving it.
Use Bubble Wraps
Bubble wraps are true saviors when moving fragile items. They can also help a great deal when moving mirrors.
Take a bubble wrap and wrap the mirror carefully. Ensure that all parts of your mirror are fully covered, including the corners. If possible, add further protection to the mirror by placing it between two corrugated cardboards.
The cardboard should be a bit bigger than your mirror. Secure them together using the masking tape.
Wrap the Mirror in a Blanket and then Box it
Look for a very thick blanket, eiderdown or quilt and use it to wrap the mirror all around. Once done, place the mirror carefully on a fitting box or any other suitable container.
Fill any spaces in the box with padding material to ensure that the mirror will be firm within the box and be safe from any movements that may break it. Use newspaper or old towels and clothes as padding material.
Then seal the container or box using a packing tape. Mark the box clearly with a marker pen or label indicating that it contains a fragile mirror.
Transport the Mirror Appropriately
In case you will be transporting the mirror together with other household items, then you should make sure that the mirror rests upright on its longer side.
Also, make sure you place it within the transportation vehicle in a manner that it doesn't move around during transit. It should also be placed in an area where it will not get crushed by other objects during transit.
If you're transporting the mirror without other items, then you can lay it flat. However, ensure it won't move around while on transit.
For more professional advice on transporting mirrors safely, give Man Van Move a call at 07872 467911